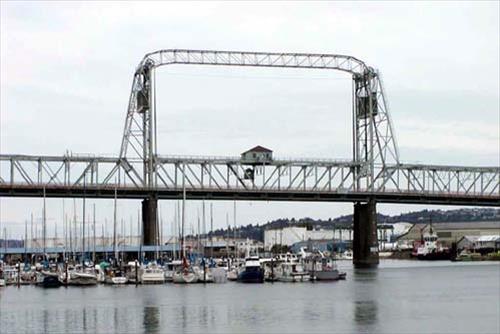 A Bridgetender Writes
Twenty-five years ago this week, on May 21, 1997, Tacoma's Eleventh Street Bridge was renamed in honor of Murray Morgan. The crossing opened on February 15, 1913, and is one of Washington's more notable bridges due to its unique design. Besides being built on a grade, the bridge has an unusually high deck for a vertical lift bridge, and also carries a water pipe across its overhead span.
In the early 1950s Morgan, an author and self-described "history reporter," moonlighted as the span's bridgetender. If you look closely at the image above, you'll see a tiny shed located on top of the crossing. It was here -- in between raisings and lowerings -- that Murray wrote most of Skid Road, the seminal history of Seattle that was published just in time for that city's 1951 centennial.
Morgan went on to write many more books on Northwest history, and he was one of the earliest members of HistoryLink's advisory board. We invite you to read his 1959 broadcast script about the trial of Teamsters boss Dave Beck and his 1963 broadcast script covering a speech given in Seattle by author James Baldwin, both of which were contributed to HistoryLink by his daughter Lane Morgan. We also urge you to read the fascinating essays that she has written for HistoryLink.
Seeing the Sights
On May 22, 1903, President Theodore Roosevelt hit the campaign trail in Washington, beginning with a speech in Chehalis from atop the McKinley Stump. The platform had been built in 1901 for President William McKinley, who had to cancel his visit after his wife took ill. Not long afterward, McKinley was assassinated, and Vice President Roosevelt ascended to the office.
Immediately after his Chehalis visit, Roosevelt stopped in Tacoma and gave a stirring speech at Wright Park. The next day in Seattle, he signed in as the inaugural guest at the Washington Hotel atop Denny Hill and visited Fort Lawton. Two days later he briefly visited North Yakima, before heading off to Walla Walla, where he spoke at Whitman College.
Roosevelt won the election, and three years later he dispatched the U.S. Navy's Great White Fleet on a voyage around the world, including a tour of Puget Sound. When the ships arrived in Elliott Bay on May 23, 1908, Seattleites beamed with pride upon seeing the USS Nebraska, which had been launched from the Moran Brothers shipyard four years earlier. The Nebraska was the only battleship ever built in Washington state, and its construction was buoyed with $100,000 raised by local boosters.