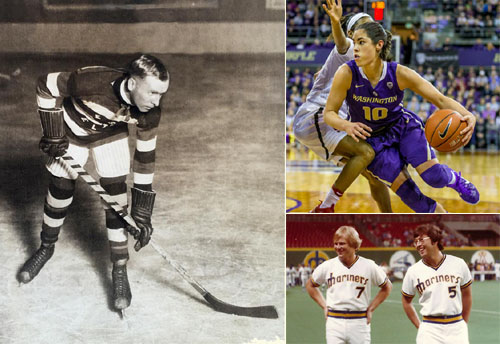 Play Hard and Fast
This week, we highlight several notable anniversaries in the world of sports. We begin on March 26, 1917, when the Seattle Metropolitans became the first U.S. hockey team to win the Stanley Cup. Coached by Pete Muldoon and led by team captain Frank Foyston, the Metropolitans played again in the Stanley Cup finals two years later (without star center Bernie Morris, who was in prison) but the championship match was cancelled after five games due to that era's flu pandemic. 
Moving on to more recent sporting events, on March 26, 2005, the Rat City Rollergirls competed in their first roller-derby match, held at the Southgate Roller Rink in White Center.  Seven years ago this week, on March 27, 2016, the Washington Huskies became the first team in state history to reach the NCAA women's basketball Final Four. And last year, on March 28, 2022, Pickleball was named Washington's official state sport.
With the baseball season soon upon us, this week marks a dual anniversary for Seattle's Kingdome, once a notable landmark but now just a distant memory. Plans for a domed stadium in Seattle were first hatched in 1960, but voters balked at funding it until 1968, when hopes were high for Seattle's first Major League baseball team, the Pilots. Unfortunately, after playing one season in an aging Sicks' Stadium, the Pilots flew the coop to Milwaukee, where they became the Brewers.
As Seattle fought to acquire another baseball team, discontent for the new stadium grew between citizens and public officials – mostly over building costs and planned locations – which delayed construction even further. The Kingdome finally opened on March 27, 1976, and was imploded 24 years later, on March 26, 2000.
Woodinville's Past
Thirty years ago this week, on March 27, 1993, Woodinville officially celebrated its incorporation, more than a century after the community was homesteaded by the Woodin family in 1871. Back then, the only way for the Woodins to get their eggs and produce to the markets in Seattle was down the Sammamish Slough by canoe or scow, followed by a long trip over Lake Washington and a hike into the city. Much has changed since then.
In 1884, the steamer scow Squak began making trips up the slough to Lake Sammamish. Soon after, the Seattle, Lake Shore & Eastern Railroad reached the town on its way to Issaquah, providing another boost to Woodinville's growth. By this time, local farmers were doing quite well tilling the Sammamish Valley farmlands.
And so they did, for decades. After World War II, eastside cities like Kirkland, Redmond, and Bellevue became less rural and more suburban, and Woodinville was no different. Its wooded hillsides attracted many new homeowners, while the lush valley became home to horse ranches, country estates, and at one point, a rock concert featuring the likes of Led Zeppelin, Santana, and The Byrds.
In the 1970s, Woodinville became a key player in Washington's burgeoning wine industry, and is where vintners such as Bob Betz, Allen Shoup, and Kay Simon honed their craft. Woodinville became a city not long after King County extended its urban-growth boundary in 1992.