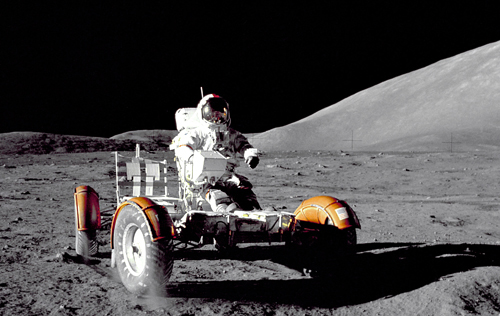 Wheels on the Moon
Fifty years ago this week, on July 31, 1971, the Boeing-built Lunar Rover was deployed on the moon for the first time. For the next three days, Apollo 15 astronauts David Scott and James Irwin used the "moon buggy" in their explorations. Other rovers were used for the Apollo 16 and 17 missions, and all three vehicles are still parked on the moon.
A decade earlier, NASA was the second-largest exhibitor at the Seattle World's Fair, and its $2-million exhibit was the organization's first large-scale attempt to tell the story of the United States space program. When John Glenn visited the fair he was joined by eight other test pilots, all of whom spoke at a NASA conference where they answered questions about space travel. Most of the audience was focused on Glenn, who recently became the first human to orbit the earth, and barely noticed the other pilots – one of whom was Neil Armstrong.
Armstrong and Buzz Aldrin would later become the first humans to walk on the moon, but here in Washington Boeing workers took pride in helping the astronauts achieve this "giant leap for mankind." When Apollo capsules lifted off from Cape Kennedy, the Boeing-built S-1C first stage booster of the Saturn V launch vehicle rocketed them skyward. NASA also hired Boeing to coordinate Technical Integration and Evaluation of all Apollo systems.
Feet on the Ground
August 4 is Washington Trails Day, and this week HistoryLink.org salutes some of the men and women in Washington who popularized hiking throughout our state. We begin with forest ranger Frederick W. Cleator, who surveyed many remote areas of Washington during the first half of the twentieth century, blazing trails for hikers to come. Many of those happy wanderers were later introduced to their travels by the famous 100 Hikes and Footsore series of books produced for The Mountaineers by the tireless Harvey Manning, photographer Ira Spring, and Louise B. Marshall.
We next turn our attention to the conservationists and other outdoors advocates who have made sure that Washington's open spaces are accessible to all. Among them are such luminaries as Patrick Goldsworthy, Polly Dyer, Fred Beckey, Ruth Ittner, John Osborn and Rachael Paschal Osborn, Phil and Laura Zalesky, Janet Dawes, Doug Walker, Joan Thomas, Vim Wright, Helen Engle, John Arum, Joan Crooks, Wolf Bauer, and organizations like the Washington Wildlife and Recreation Coalition , the North Cascades Conservation Council , the King County Conservation Futures Program, Forterra, the Boy Scouts, and the Nisqually Delta Association.
We also thank some of the numerous government officials who have championed environmental issues, including William O. Douglas, Lloyd Meeds, Judge Betty Fletcher, John Martinis, William Ruckleshaus, Bill Van Ness Jr., and of course, senators "Scoop" Jackson and Warren Magnuson. And we'd be remiss if we didn't tip our hats to such notable Northwest outfitters such as Eddie Bauer, REI, C. C. Filson, and Trager USA.