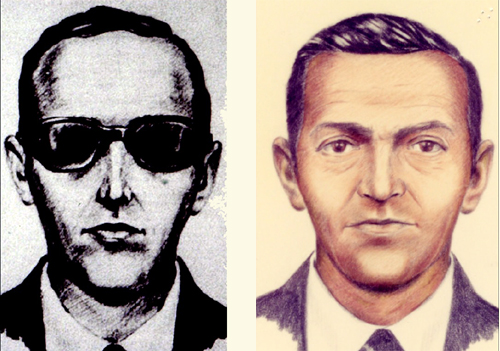 Into Thin Air
Fifty years ago this week, on November 24, 1971, a man using the alias Dan Cooper (erroneously dubbed "D. B. Cooper" by a reporter) commandeered a Boeing 727 bound for Seattle from Portland and demanded $200,000 and two parachutes upon its arrival. Once the plane landed, his demands were met and the passengers were allowed to disembark, while a skeleton crew remained on board.
Cooper next requested that the jet take off and head south, but at a low altitude (10,000 feet) with the landing gear down. The 727 was designed with a set of aft stairs, and somewhere over Southwest Washington – while the crew was in the cockpit – he lowered the stairway and vanished into the rainy night. Years later, some of the ransom money was discovered on the banks of the Columbia River, but no sign of Cooper was ever found.
Over the last 50 years the legend of "D. B. Cooper" has grown and continues to play a part in popular culture, with numerous references to the incident in film, books, and music. The FBI has kept the case open all these years and continues to run down leads and investigate suspects, but the agency generally maintains that the hijacker's jump from the plane proved fatal. If Cooper were alive today, he'd be in his 80s or 90s.
Live on the Air
More than a century ago, many people spent their Thanksgiving holiday taking in a stage show or a movie. This might explain why some theaters chose this time of year for their grand openings, including Squire's Opera House in Seattle on November 24, 1879, the Seeley Theatre in Pomeroy on November 24, 1913, and Port Angeles's Mack Theatre on November 24, 1922.
But on November 25, 1948, hundreds of people around Puget Sound stayed home to watch the region's first wide-audience television broadcast -- a high school football game between West Seattle and Wenatchee on KRSC-TV. It is not surprising that one of the other programs shown in the 1948 broadcast was a film of a Broadway play. A new medium was supplanting an old. One person to recognize this was Dorothy Stimson Bullitt, who had just purchased a radio station in 1947. Two years later, she purchased KRSC-TV for $300,000 (the first sale of a television station in the United States) and renamed it. We know it today as KING-TV.