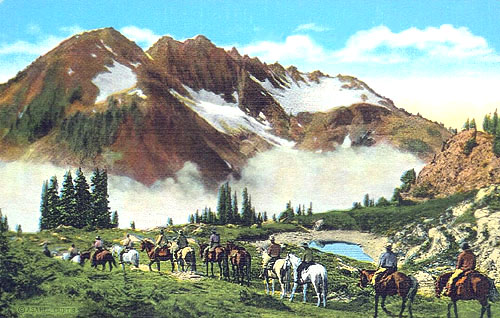 High Land
On February 22, 1897, one of outgoing President Grover Cleveland's last official acts was the proclamation of the Olympic Forest Reserve, but its creation was not without controversy. Some thought the move to be impetuous, and after President William McKinley took office he issued a proclamation -- with the support of the timber industry -- that reduced the forest reserve by more than 700,000 acres.
Nevertheless, a growing number of conservationists sought to save the forests from over-harvesting. One of them was Joseph P. O'Neil, a U. S. Army lieutenant who in 1890 led an expedition that made the first recorded ascent of Mount Olympus. When O'Neil made his report to Congress in 1896, he noted that the region would serve admirably as a national park.
In 1909 President Theodore Roosevelt issued a proclamation creating Mount Olympus National Monument, but conservationists continued pushing for more protection of the peninsular wilderness. This took time, and it was not until 1937 that President Franklin D. Roosevelt  -- after hearing arguments both for and against creation of the national park -- visited the Olympic Peninsula to see for himself. He liked what he saw, and in 1938 signed legislation creating Olympic National Park. Joseph O'Neil, who had by this time risen to the rank of brigadier general, died four months later, having seen his dream fulfilled.
Dry Land
On February 24, 1909, Grant County was created when Douglas County was split in half by the state legislature. Ephrata -- which incorporated a few months later -- was chosen as the county seat, but the town didn't get a formal courthouse until 1917.
Grant County is home to Dry Falls, one of the more dramatic remnants of the ice age floods that carved out a significant portion of Eastern Washington. At the time of Grant County's creation, much of its land was dry indeed. Attempts at irrigation met with failure until 1918, when William M. Clapp, an Ephrata attorney, proposed the idea of constructing a dam at Grand Coulee on the Columbia for the benefit of all nearby communities. Thus began the Columbia Basin Reclamation Project, a Herculean effort that took three decades to complete.
After years of studies and surveys, President Franklin D. Roosevelt authorized the construction of Grand Coulee Dam -- located at Grant County's northern tip -- soon after taking office in 1933. The dam's generators began producing electricity in 1941, which helped meet increased electricity demands during World War II, most notably for a secret military project in South Central Washington.
Want to be notified when we update This Week Then each week? Please subscribe to our free weekly newsletter, which also includes other historical info and news you might find interesting.