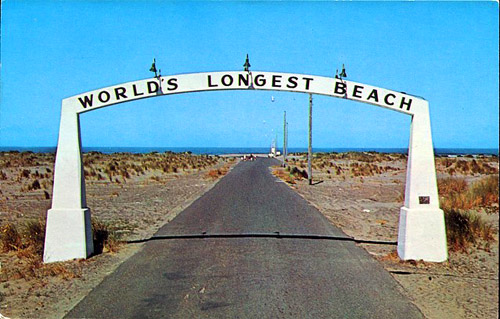 Oceanside Bounty
On January 18, 1922, Long Beach incorporated in Pacific County, more than a century after Captain William Clark of the Lewis and Clark Expedition traveled to the site on a well-trodden Indian trail and carved his name into the side of a tree. Homesteaders first arrived in the 1860s, but the community really blossomed in the 1880s as a seaside resort, especially after the coming of the first railroad.
In its early days, one of the town's most popular tourist stops was the Long Beach Hotel, which burned in 1895 but was quickly rebuilt. More hotels sprouted up, and by the 1920s automobile enthusiasts made their way to what was billed as the "World's Longest Beach" to race along 28 miles of sandy shoreline. Clam diggers flocked there too, enticed by the abundance of razor clams, so much so that limits were later put into place to prevent over-harvesting.
Long Beach continues to attract plenty of folks looking to beachcomb, fly kites, go biking, dig clams, or enjoy other pursuits. It's no wonder that it has been called one of America's favorite beach towns, and we would be remiss not to point out that the community's history -- which now spans three centuries -- is considered a key element in its popularity.
Naming King County
January 20 marks this year's federal holiday in honor of the Reverend Dr. Martin Luther King Jr., the eponym of King County. Of course, this was not always the case. Indeed, the Rev. King was spurned by several speaking venues when he paid his sole visit to Seattle in 1961 at the invitation of his good friend, the Reverend Samuel McKinney.
The county was originally named for U.S. Senator William Rufus de Vane King, an Alabama slave owner who died days after being sworn in as vice president in 1853. In 1986 Ron Sims, then the first African American member of the King County Council, led the effort to rename King County for the modern martyr. The former Empire Way was also renamed for King and in 1991 a monument was erected to his memory.
The 1986 King County resolution redesignating its eponym was later affirmed by the Washington State Legislature and signed into law by Governor Christine Gregoire on April 19, 2005, as one of her first official acts. In 2007 King County's official logo was redesigned with an image of Dr. King.
Want to be notified when we update This Week Then each week? Please subscribe to our free weekly newsletter, which also includes other historical info and news you might find interesting.