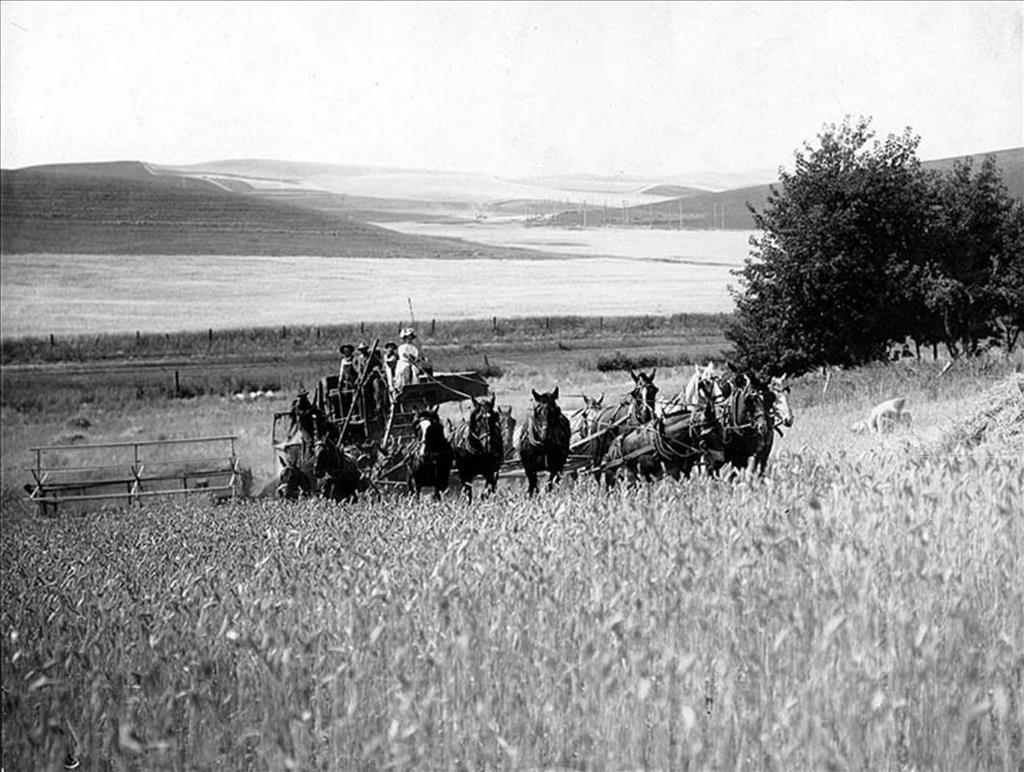 Wheat harvest with horse-drawn combine, Spokane County, ca. 1909 
Courtesy UW Special Collections (UW1664)
Agriculture is the largest industry in the state of Washington and is responsible for 12% of the state's economy. We believe that all students in Washington should have a working knowledge of the history of agriculture and its impact on our way of life. 
To this end, HistoryLink, the Washington State Historical Society, a family of museums and research centers, and North by Northwest, a digital studio, have joined forces to create the "Washington State Agriculture History Project" with the goal of telling the rich history of Washington agriculture to a new generation through articles, videos, and curriculum. Each unit will have online content, with leveled content for grades 3/4 and 7/8, a video, and classroom activities.
The first unit is a protoype that we have produced and it covers the history of wheat farming in Washington. Find links to each of the unit components below and check back often to find new ones. If you would like to be notified as new units become available, email [email protected].
This project has been made possible with generous funding from the Peach Foundation, Washington Wheat Foundation, and the Washington Grain Commission.
Wheat Farming
Wheat has been cultivated in Washington since the 1820s and remains the most important agricultural product in much of eastern Washington -- and among the state's top five crops. In this unit, students will learn about how wheat was introduced into Washington and how it spread into the Columbia Plateau and Palouse regions, how farm technology has changed over time, and the state of the wheat industry in Washington today. 
HistoryLink feature: Wheat Farming in Washington
Wheat Farming in Washington Curriculum:

Elementary Curriculum
Elementary Leveled Feature

Middle School Curriculum
Middle School Leveled Feature
Videos: