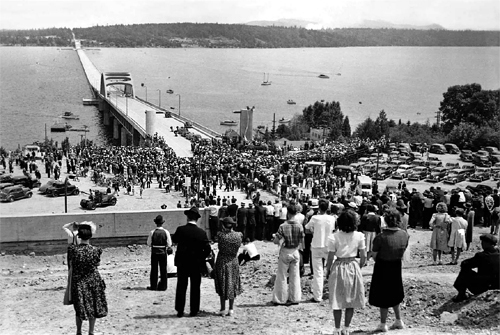 Opening Celebrations
This week has been quite a popular time in Washington history for openings and dedications, and we begin with a few bridges. The University Bridge in Seattle opened on July 1, 1919, replacing the Latona Bridge, which opened exactly 28 years earlier, on July 1, 1891. And on July 1, 1958, the second Columbia River Interstate Bridge opened between Portland and Vancouver.
In 1940, two noteworthy Washington bridges opened one day apart. On July 1, the Tacoma Narrows Bridge was dedicated, and the Lake Washington Floating Bridge followed suit the next day. Both bridges were marvels of their time. The Tacoma Narrows Bridge was high, long, and slender -- too slender as it turned out, as high winds a few months later caused it to undulate wildly and collapse. When the Lake Washington Bridge opened it was the largest floating structure in the world, but 50 years later suffered its own disaster when it sank during a storm. Both bridges were rebuilt and now have parallel companion spans nearby.
Moving on to other grand openings, the Grays Harbor Lighthouse was dedicated on June 30, 1898, assisting safe passage for ships entering the bay. On July 4, 1914, the Smith Tower opened in Seattle, and at the time was the tallest building in the West. A year later, on July 1, 1915, the Sunset Highway through Snoqualmie Pass was dedicated, three days before Samuel Hill dedicated the Pacific Highway at Blaine.
On July 1, 1917, Paradise Inn opened on Mount Rainier. Three days later, on July 4, the SS Roosevelt led a marine parade through the Ballard Locks to mark the dedication of the Lake Washington Ship Canal. The following year, Samuel Hill was back on July 4, this time to help dedicate the Stonehenge replica at Maryhill in Klickitat County. Finally, and much more recently, the American Hop Museum opened in Toppenish on July 2, 1994.
Suffrage Delegations

This week in 1909, Seattle stood center stage in Washington women's dramatic push toward achieving the vote as the city played host to the 41st annual convention of the National American Woman Suffrage Association. Washington suffrage proponents including Emma Smith Devoe and May Arkwright Hutton welcomed the arrival of the Suffrage Special, a Northern Pacific train that had traveled cross-country carrying more than 250 leading national and international suffragists. The Suffrage Special stopped in Spokane and Tacoma before reaching King Street Station in Seattle on June 29.
The next day, as prominent Seattle women welcomed national suffragists to their fair city, the Washington Equal Suffrage Association began the convention in downtown Seattle. Sparks flew during these proceedings, igniting a blaze of embarrassing publicity. But over the next week, the women welcomed Washington male voters, courted college-age suffragists, and attended a July 4 meeting at the Alaska-Yukon-Pacific Exposition.